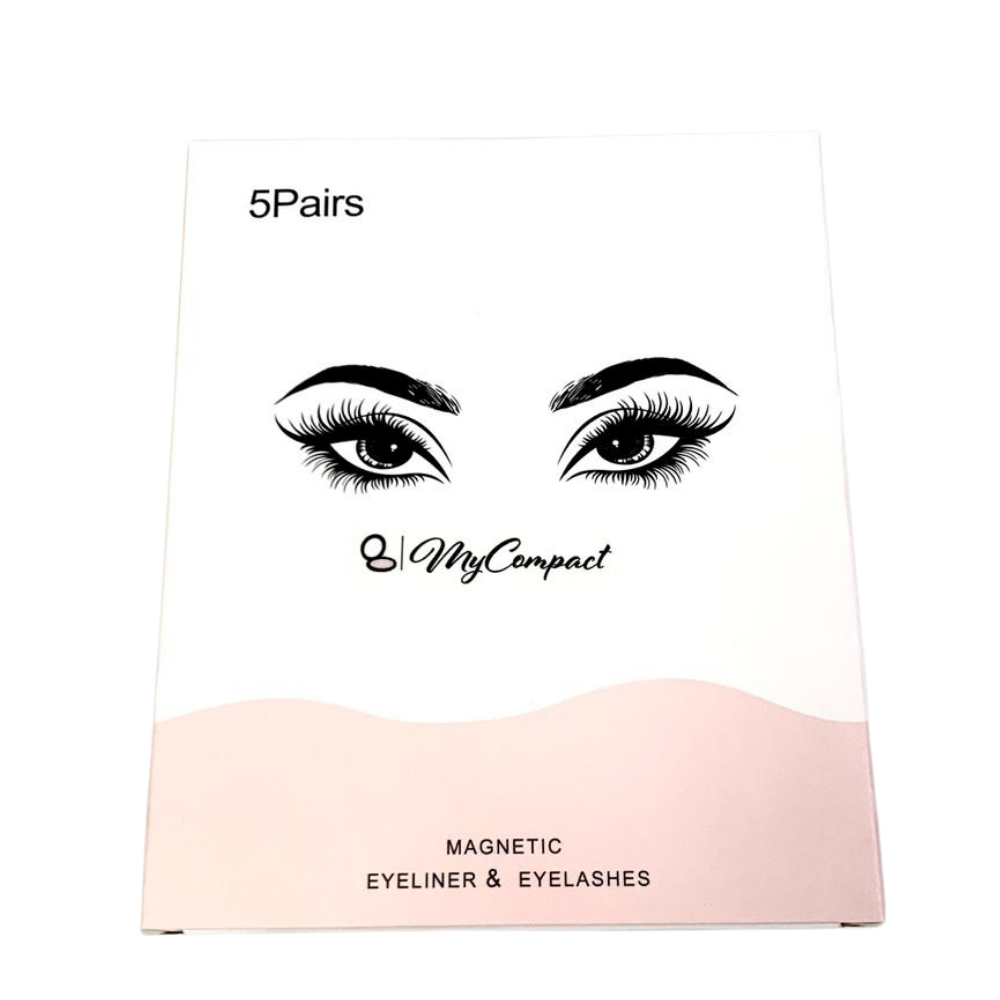 MyCompact Magnetic Eyeliner & Eyelashes
Magnetic Eyelashes & Eyeliner Kit: 5 unique pairs of magnetic lashes, 1 tube of magnetic eyeliner, and tweezers. Very easy to apply, great for new lash wearers, suitable for any occasion.

All Day & Long Lasting: 5 strong magnetics on each lash that will quickly attach to the eyeliner. Good for 20-30 uses if taken care of properly. Smudge & waterproof. Enjoy 24 hours or more of secure hold.

Magnetic Eyeliner: No need for pesky glue anymore. Save your natural lashes! Just apply 2 layers of eyeliner, let it dry, and lay lashes on eyeliner.
Waterproof & Sweat-Proof & Reusable Our magnetic eyeliner is waterproof, so you don't have to worry about makeup when you are in the rain or sweating, you can even wear them in water activities! Quality Materials All hand woven, 3D three-dimensional, root clear. Designed with 5 strong magnets that can be effectively absorbed. 5 Different Styles Great for weddings, date night, girls night, work and more. Full and glamourous 3D lashes. Easy to Apply: Shake Bottle Apply 2 layers of eyeliner to your eyelid Wait for eyeliner to dry Apply eyelashes and adjust if need be How to Remove Remove eyelashes gently Use makeup remover to remove eyeliner.
TIPS:
1. Shaking the bottle before use, and seal the bottle in time after used.
2. Make sure the allergy test is passed before using this product on your eyelid.
3. Performance will be better if you can put on eyelash before the eyeliner is dried completely, and refine the eyeliner line also.
4. Eye contact: Rinse out with clean water immediately. If product enters the eyes by accident, and reaction or serious illness occurs, please seek medical attention.
How to Remove:
1. Use cotton pads with makeup remover of your choice.
2. Close your eyes and cover the pads onto your eyelash, slightly press or tap to make the liquid makeup remover spread equally to the eyelash.
3. Wait 1 minute, then remove the eyelash.
4. Clean your eyelid and false eyelash for reuse next time!