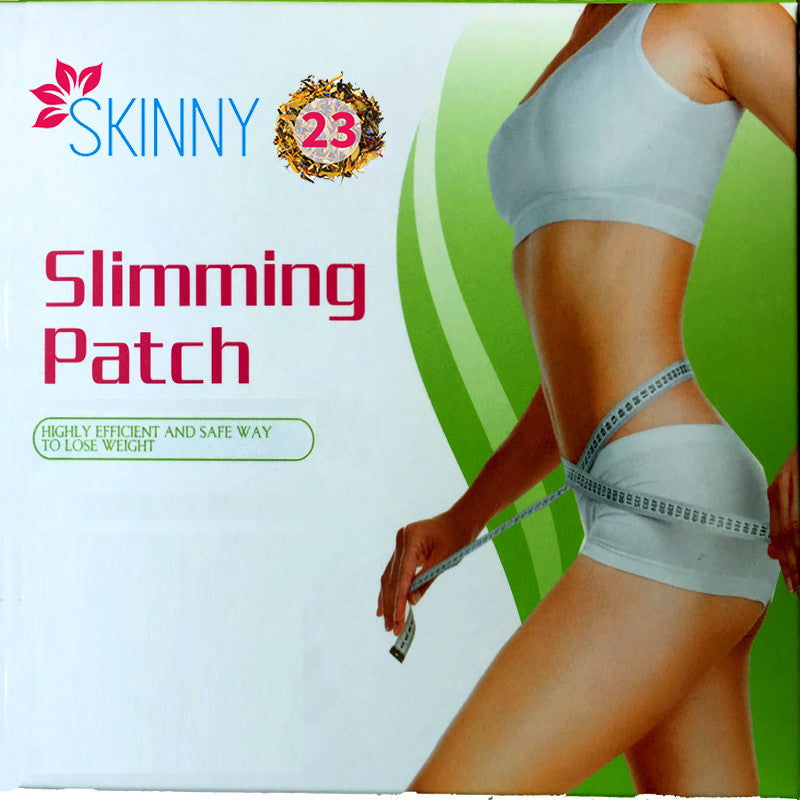 Ingredients:
Fucus Vesiculosus, Guarana, Zinc Pyruvate,Flaxseed Oil, Semen cassiae torae,Poria cocos,Maythorn,Immature Bitter Orange,

Scutellaria baicalensis,Green tea powder,Active substances of plant extract.

Features:

The Slim Patch is all-natural and 100% safe herbal patch developed to help your body shed fat safely and quickly.

The Slim Patch is easy to use, easy to wear, safe, and efficient in removing excess fats in your body.

The Slim Patch boosts your metabolism, suppresses the appetite, stimulates weight loss,regulates your body's blood sugar levels and prevents the body from absorbing fat.

Caution:

1. Avoid using on sunburned, damaged , swollen, blemishes or inflamed skin.

2. Pregnant women, the elderly, hyperthyroid and hypothyroid patients and children should not use this product.

3. Stop using the products if you feel any discomfortable. Store in cool (room temperature) dry and dark conditions.

4. For external use only.

Main Function

1.Get rid of phlegm dampness, constipation and simple obesity.

2.Evenly reduces and block the absorption of grease, sugar and starch.

3. Help burn the fat and detoxifying the toxicants accumulated in the body.

4.Significantly and effectively slims up the whole body.



Usage:

1. Clean your skin around the naval (Shen-que point) or Guan-yuan point with warm towel.

2. Open the individual package and remove the paper covering the Magnet Slimming Patch

3. Apply the patch directly onto your navel or Guan-yuan point.

4. Wear the Magnet Slimming Patch for 12 hours,

5. Remove the patch after use and replace with a new patch.

6. Use warm water to clean the applying area after removing the patch.

7. Continue using the Magnet Slimming Patch for 28 days or until getting your desired result

8. For overweight individuals, please keep using for three months for the best result.



Who should use:

Applicable to simple obesity, puffiness or caused obesity by obesity and other irregular people.

This product can improve the level of basic metabolism, accelerate blood circulation, shape and beauty body.

Suggestion:

1. Defecate may be increased or excretion with oil in the first time applying, don't worry.

2. Drinking 8 cups of water (200 ml per cup) in one day, is recommended for toxin discharge.

3. Do not eat oily food ,spicy food , coffee and such heat food when you use the patch

4. Do aerobic exercise half an hour per day, help you to get good slimming result.